One week after the Samsung Galaxy Tab S8 + was spotted on Geekbench, the Galaxy Tab S8 Ultra, the most powerful in the Tab S8 Series, has arrived on Geekbench. The model number of the Galaxy Tab S8 Ultra is SM-X906N and it looks like it will be a model for South Korea.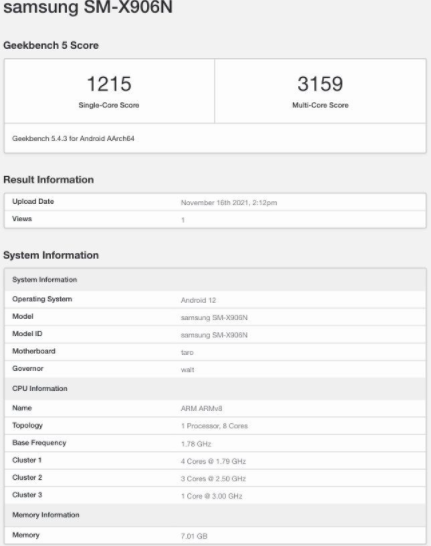 The tablet runs on the same "Taro" chipset as the Galaxy Tab S8 +, and according to the latest rumors, it will be marketed as the "Snapdragon 8 Gen 1". According to Geekbench, the Snapdragon 898 chipset will not be included as previously reported.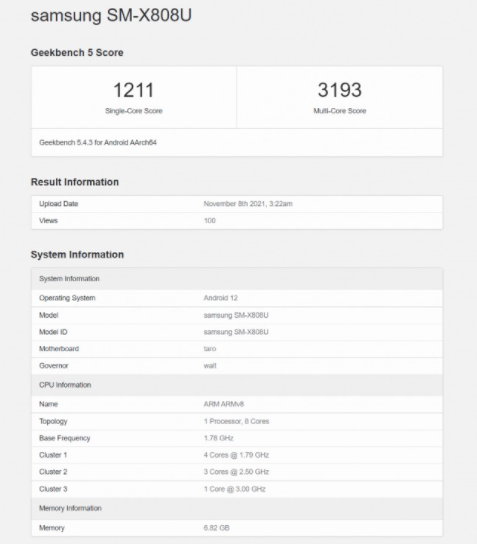 The Galaxy Tab S8 Ultra runs Android 12 and comes with 8GB of RAM, according to Geekbench. According to leaks, it will feature a 14.6-inch OLED display with 120Hz refresh rate. Available in 8 / 128GB and 12 / 512GB configurations, it weighs in at 650 grams. It has a 12,000mAh battery that supports 45W Fast Charging.
Samsung seems to be ready to announce the Galaxy Tab S8 Series. Samsung has not yet announced an announcement date, but it could be in January or February next year.